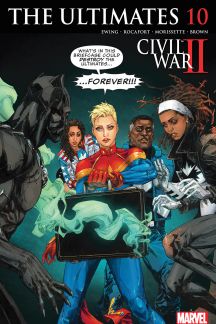 By Kenny Howell
It's a pretty meh week as far as Marvel's releases go, as only one of their highly acclaimed series is continuing this week, surrounded by a billion Civil War II books.
The
Ultimates #10
is the only one I am really looking forward this to, because it has been one of the few consistently good series Marvel has had in the last year or so.
The marquee release of the week is probably
The Fallen #1
which follows the fallout after the death of Bruce Banner. It is obviously one of the Civil War II books, of which there are plenty. They include
X-Men #3
,
Gods of War #3
,
Choosing Sides #4
,
Amazing Spider-Man #3
,
Mockingbird #6
,
Power Man and Iron Fist #7
,
The Ultimates #10
,
Sam Wilson Captain America #12
,
All New Wolverine #11
and
Spider-Woman #10
.
The entire release list is below.
The Fallen #1
X-Men #3
Gods of War #3
Choosing Sides #4
Amazing Spider-Man #3
Gwenpool #5
Daredevil/The Punisher #4
Mockinbird #6
Star Wars: Poe Dameron #5
Power Man and Iron Fist #7
Web Warriors #10
The Ultimates #10
Captain America: Sam Wilson #12
All-New Wolverine #11
All-New Inhumans #10
Uncanny Avengers #12
Spider-Woman #10
Mighty Thor #10
Black Widow #6