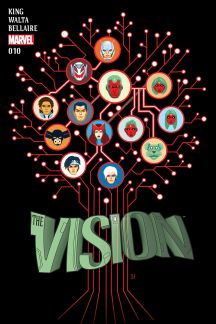 By Kenny Howell
The best comic Marvel has going,
Vision
, is back with issue #10. Things have really spun out of control for Vision, and he tries to keep things under control after the tragedy at the end of Issue #9. Vision is unlike anything out there for Marvel right now.
Black Panther
also makes his return this week with issue #5. The critically acclaimed book by Ta-Nehisi Coates is closing in on the final of the first arc.
Several Civil War II books make their way to the shelves this week again, led by
The Accused #1
, which sees Daredevil prosecuting Hawkeye for the murder of Bruce Banner. Other Civil War II books are
Scarlet Witch #9
,
Agents of Shield #8
,
A-Force #8
,
Spider-Man 2099 #13
and
All-New, All-Different Avengers #13
.
The full release list is below.
The Accused #1
All-New, All-Different Avengers Annual #1
Deadpool & the Mercs for Money #2
Empress #5
Black Panther #5
Vision #10
Scarlet Witch #9
Daredevil #10
All-New X-Men #12
Old Man Logan #10
Agents of Shield #8
A-Force #8
Spider-Man 2099 #13
Darth Vader #24
All-New, All Different Avengers #13
Amazing Spider-Man #16
Spider-Man/Deadpool #8