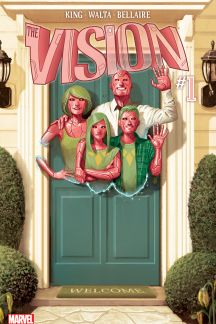 Vision
- Written by Tom King; Art by Gabriel Hernandez Walta, Michael Walsh: Published by Marvel
By Kenny Howell
Marvel occasionally takes lower profile characters, puts great teams on them, and lets them let loose a little bit, reinvigorating those characters.
They are never really stories that will be made into one of their blockbusters, and that is a good thing. There still needs to be a strong focus on the comics separate from the movie because that is what got you here. One of their better series in the last few years was Matt Fraction's
Hawkeye
, which saw a bit of a self-deprecating version of the character back in his apartment building fighting off dudes in tracksuits who are screwing the tenants out of their living situations. It was simple, outside of the universe a bit, and a lot of fun.
Vision
sees the sentient robot wanting to be a real boy, well a real human. It is a very Pinocchio-ish type story, as Vision wants a family and a real life. He creates a wife and two twin teenagers and retires to Arlington, Va. to raise his new family. But forces from the outside as well as the robots' nature start to spin Vision's perfect suburban existence out of control.
Vision
is nine issues deep right now, and still going strong, and an end to the story is in sight. It's worth it to get caught up now (early issues are on Marvel Unlimited), and prepare for the ending which should be a delight.