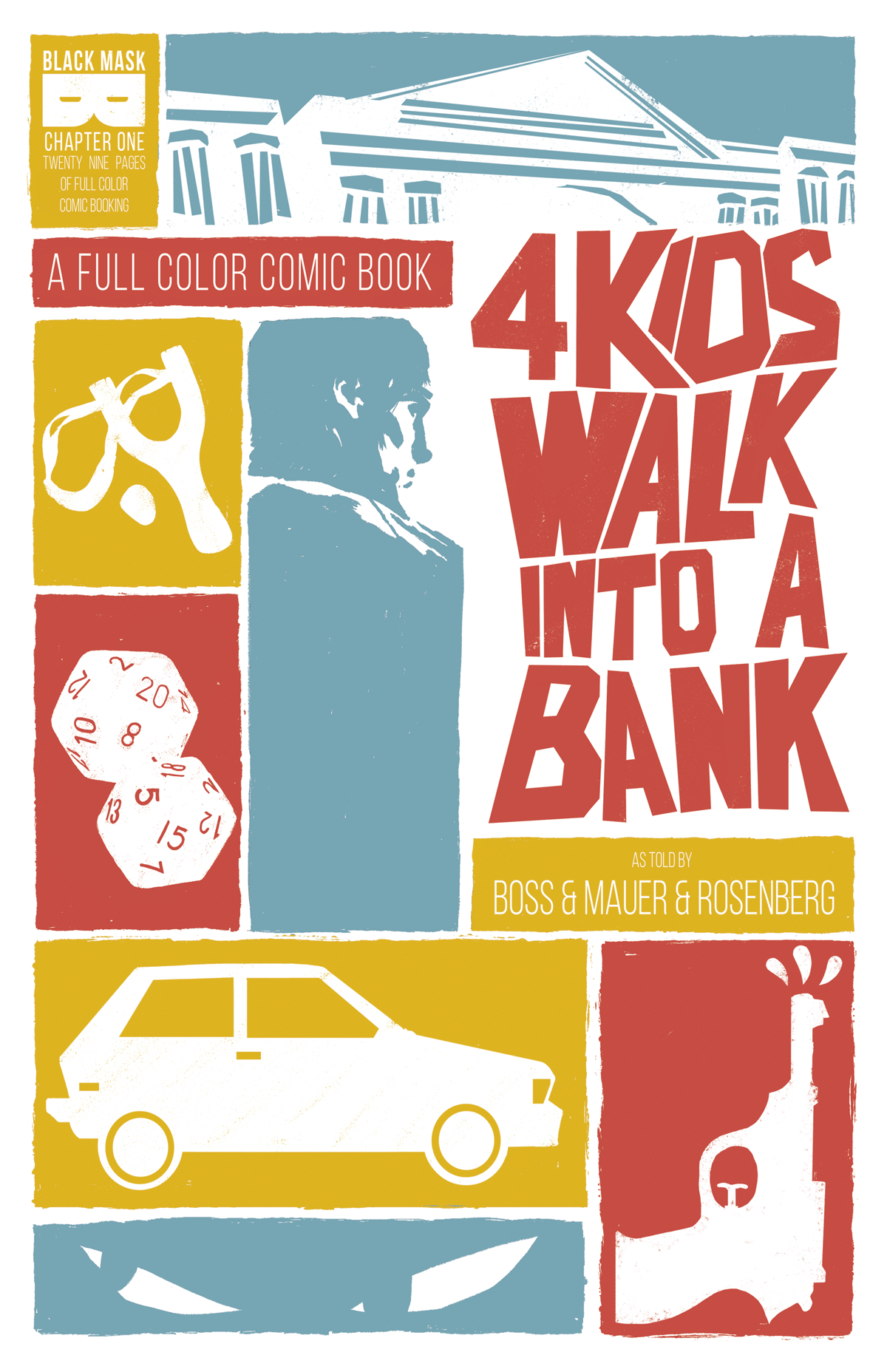 4 Kids Walk Into a Bank
- Written by Matthew Rosenberg; Art by Tyler Boss; Lettering by Thomas Mauer; Published by Black Mask Studios
By Kenny Howell
I don't know that I had ever read anything from Black Mask Studios until I saw some good things written about this little piece of work from some of my favorite creators.
I am telling you, not trying to get my name on an ad or promotional materials or anything (though that would be cool Black Mask Studios!), they are right,
4 Kids Walk Into a Bank
is the funniest comic since
Sex Criminals
.
It's not just hilarious, it is a sharp story about a group of four kids, obviously, who take it upon themselves to rob a bank when one of their father's gets mixed up with some bad guys.
That girl with the unlucky dad is Paige, a spunky, terrific 11-year-old who has some nerdy friends that spend their days gaming. Each of the first two issues starts with the kids dialogue over the animated dungeons and dragons-esque games they play. After the game in the first issue, when the art switches to their real lives, a group of hooligans show up at the door, Paige shoots her mouth at them (she is the best at that), and one of the men strikes her. Her father comes out with a gun blazing and asks them to leave as nicely as a person with a shotgun pointed at them could do.
Her father explains to her that he got into some bad things back in the day, but he got past that and tells her not to worry. But things aren't that easy, there are some revelations, otherwise we wouldn't have a comic book.
Matthew Rosenberg has created a great crop of characters, most importantly that of Paige, which is one of my favorites out there right now. She is foul-mouthed, tough, and essentially the protector of her nerdy friends. She is also the mastermind, though, since she is 11, things aren't always as thought out as they should be. Her friends are great clowns to her straight man routine, and along with the simple, effective art by Tyler Boss, this has to be one of the must have books out there right now.
Rating:
****