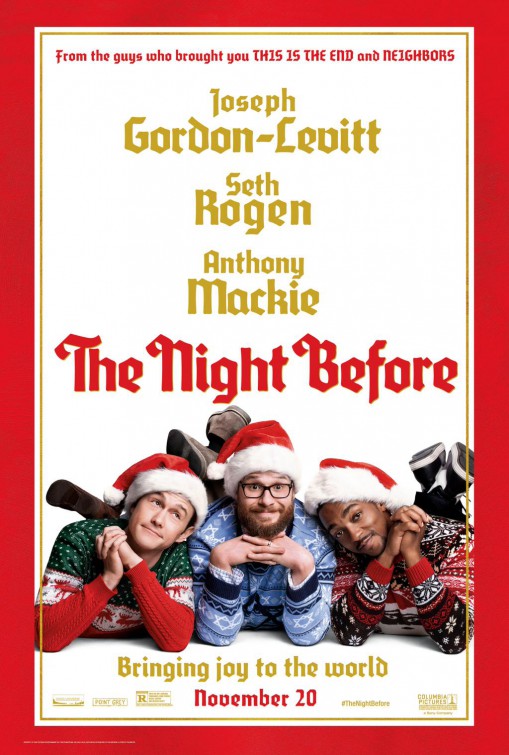 The Night Before
- Directed by Jonathan Levine; Written by Levine, Kyle Hunter, Ariel Shaffir, Evan Goldberg; Starring Joseph Gordon-Levitt, Seth Rogen, Anthony Mackie, Lizzy Caplan, Jillian Bell, Michael Shannon, Mindy Kaling, Ilana Glazer, Tracy Morgan, James Franco, Miley Cyrus, Jason Mantzoukas, Jason Jones.
By Kenny Howell
Seth Rogen and Evan Goldberg definitely have their own voice, and it has created some of the better comedies over the last few years.
It's a very particular brand of comedy, one that relies heavily on improvisation, lots of cursing, drug use, occasional extreme violence, sometimes all in the same scene. They love when everything falls apart, which made for one of their better efforts in
This is the End
. But it works, for me at least.
The Night Before
, one of their more recent efforts, seems to be a bit more strained than their other films. There are many big laughs, but it seems to take a long time to get there occasionally. Especially the first half of the film, which is searching to get the story started. It is about three buddies that have a Christmas tradition of getting together the night before Christmas and going all out. It started because one of the buddies, Ethan (Joseph Gordon-Levitt), lost his parents to a tragic accident so his other two buddies, Issac and Chris (Rogen and Anthony Mackie) wanted to create a new family for him.
However, when this film starts, this will be the last year the guys are celebrating. Issac is having a baby, Chris is a famous football star, and life is getting away from them. Ethan is still spinning his wheels a bit, but is time for the team to let him go. Their goal is to get to the Nutcracker Ball, a super secretive party that Ethan got tickets to by stealing it out of coat he checked at his crap job. The trio go through their traditions, nearly ruin everything and try to get to the party.
The laughs are isolated, not really a part of the narrative, but they are big when they really hit. Michael Shannon is particularly great in a small part as a former drug dealer the guys bought from back in high school. Jillian Bell also pitches as Rogen's wife, and Mindy Kaling, Lizzy Caplan and a host of cameos give this enough juice to be worth the time, though it is a minor effort from the team.
The Night Before
is currently playing on Starz.
Rating:
**1/2