The Broken Circle Breakdown (2013)
- Directed by Felix van Groeningen; Written by Felix van Groeningen, Carl Joos, Charlotte Vandermeersch; Starring Veerle Baetens, Johan Heldenbergh, Nell Cattrysse.
By Kenny Howell
A relationship from beginning to end, out of order in beautiful fashion, is told in this Oscar nominated film from Belgium.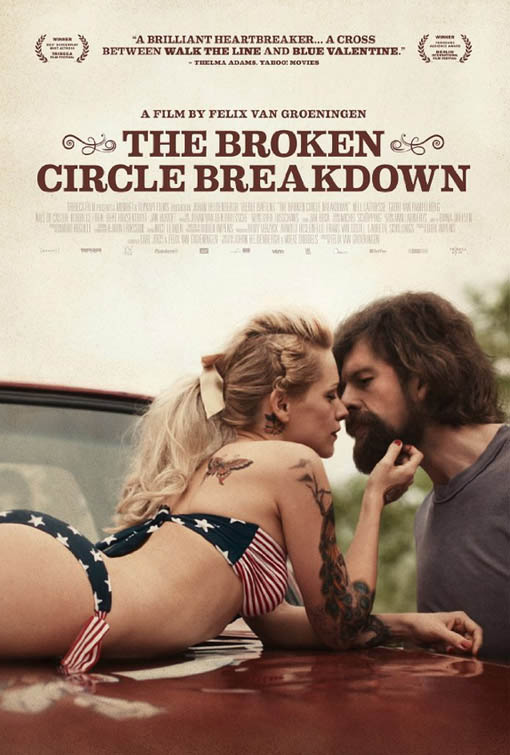 Didier is a bluegrass musician and Elise is a tattoo artist, and they fall in love rather quickly. Elise starts singing in Didier's band, and before you know it, Elise is pregnant, on accident, and the two welcome their daughter Maybelle. Maybelle grows like a weed, but tragedy hits the family when she is diagnosed with a form of cancer. The events and results of that start to strain the relationship between Didier and Elise, as the stress becomes too much. They must learn how to move on from tragedy, but the road ahead is a hard one to traverse.
The key to the movie is Felix van Groeningen, Carl Joos and Charlotte Vandermeersch's brilliant screenplay. It is told out of order, and we just get snippets of Elise and Didier's time together, before they fell in love, in their honeymoon period, dealing with the pregnancy, welcoming their child, dealing with the cancer diagnosis, trying to put the pieces back together. Despite the broken circle narrative, the story is told so seamlessly, flowing through the many stages of their relationship with ease. It plays with our expectations with where the story is going, then throws us a curveball, while still keeping the narrative intact. It is very impressive, and one of the best screenplays of 2013.
Plus, for bluegrass and old school country fans, the music is superb as they play old standards from the genre.
The Broken Circle Breakdown
is also available on iTunes or for free with your Amazon Prime membership.
Rating:
***1/2